No cookies, and great results!
Husqvarna x Opt Out Advertising x RPO (Regional Public Broadcast)
Husqvarna has been producing innovative products and machines for over 330 years. Husqvarna Division produces forest, park and garden machines for professionals and consumers alike. From chainsaws to automated mowers and from hedge trimmers to garden tractors.
For an online display campaign, Husqvarna Division Benelux turned to Opt Out Advertising to prepare them for a future without third party cookies. Some pressing questions? Can you still reach the right target group with your message if you no longer use cookies? Is it still efficient and effective? And what are the alternative options?
The two goals of Husqvarna's online campaign were to increase brand awareness among residents of urban areas and to attract new visitors to the webshop. Both branding and product expression were used for this, aimed at the summer and fall offers.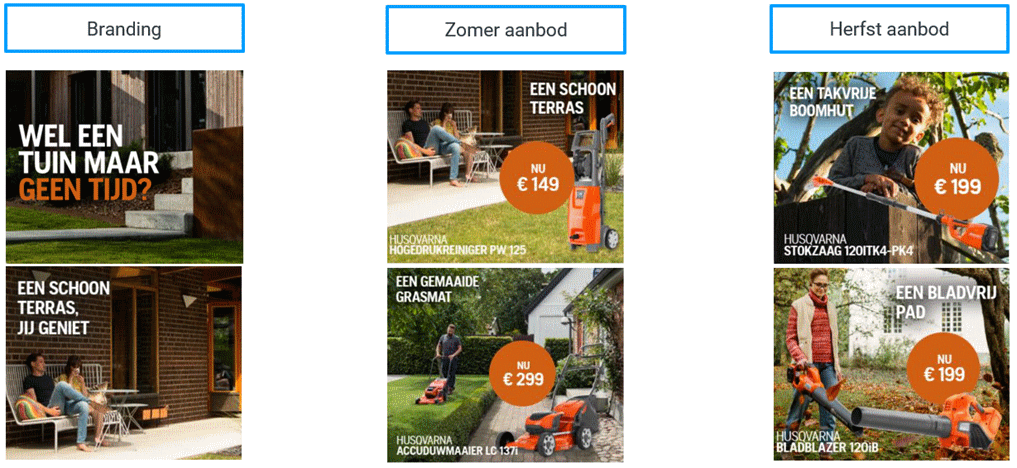 Extended strategy
To be able to compare the campaign in terms of targeting with and without cookies, Opt Out Advertising has developed a two-pronged strategy in collaboration with RPO. On one side, with targeting based on personal data obtained via cookies (location of the target group retrieved with IP addresses), and on the other side, with targeting based on advertisements aimed at relevant content about the environment of the target group (the context strategy, for which no cookies are needed). Important cities for this deployment were Amsterdam, Almere, Apeldoorn and Rotterdam.
Advertisements for the group of people who did not agree to the use of cookies appeared on the websites of regional broadcasters such as Omroep West, AT5, NH Nieuws, Omroep Gelderland, Omroep Flevoland and Rijnmond. These regional news websites are logically visited by people who have a strong connection to the area. So it was likely that advertising through these broadcasters would be valuable – and thus worth testing.
Danitsja Koster, online marketer at Husqvarna shared:
"With this campaign, we wanted to address a new target group and test whether personal data is needed to run an effective campaign. Husqvarna is in any case very careful with the use of personal data and we also see a movement in the market and society with regards to cookies that we as an organisation need to prepare for. We operate in a competitive market, so we are constantly looking for ways to make ourselves known to potential customers."
Results and Analysis
After the campaign, we analysed the results of both strategies and of the various expressions - looking at which form of advertising resulted in more traffic to the website and to quality clicks from the advertisements. What does it appear? Cookies are overrated.
The contextual strategy scored 6% better on the CTR (click through rate), and the CPC (costs per click) came out 8% lower than with the location-specific strategy. This applies to both branding and product-related advertisements.
On the website itself, after clicking on the banners, Husqvarna saw no difference in behaviour. From the context-driven strategy (without cookies) people viewed as many pages as with the location-driven strategy (with cookies). There was also no difference in how long people stayed on the website.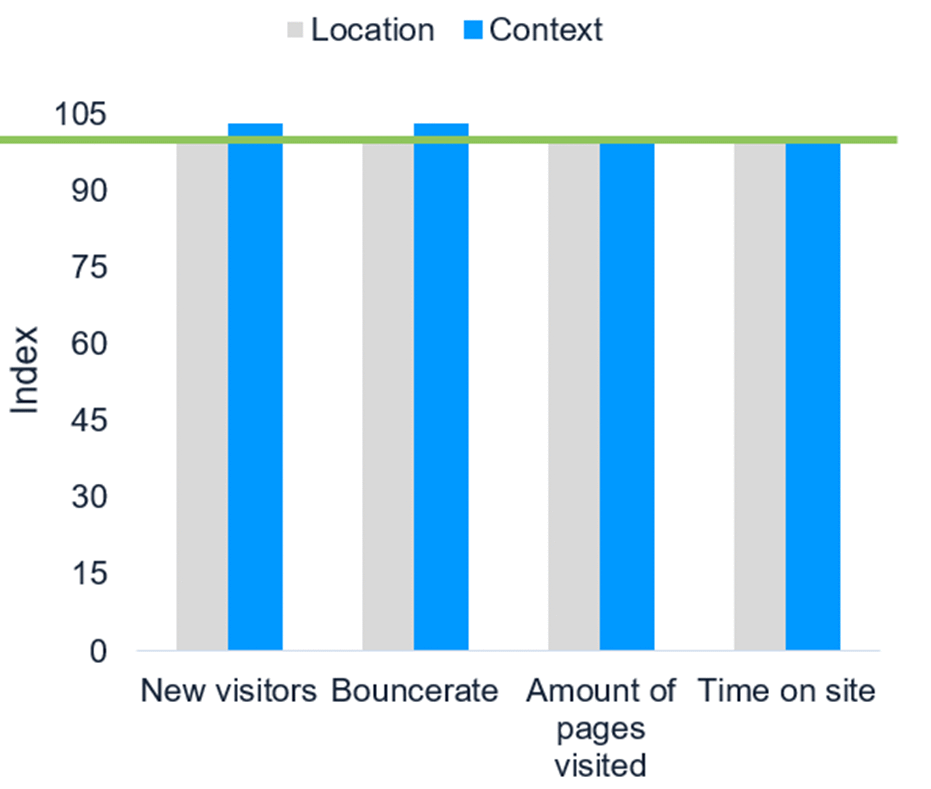 The numbers are clear - and so the analysis provided a concrete answer to the questions asked prior to the campaign, also for Koster:
"The results showed that cookies aren't necessary to run a successful campaign and that we were able to attract a group of new visitors to our website through options that we had not used before. We believe in the power of contextual advertising and matching on relevant content.
The regional broadcasters are also happy with this positive outcome, according to Marcel van Driel, digital sales strategist:
"As a public broadcaster, we are preparing for a no consent strategy together with Opt Out Advertising. We are pleased that with this test with Husqvarna we provide proof that we can serve advertisers perfectly fine without the use of cookies."
Would you like to know more about how to set up a relevant and successful online campaign without using cookies? Get in contact with us via info@optoutadvertising.com.